Consolee Nishimwe
Back in the Spring of 2014, I was in San Francisco at an event, and this video (The dark was the night) was played. I and everyone in the room was so moved by the strength and the sunshine spirit of Consolee . Then in the fall of that same year, I was privileged to meet the girl in the video and we sat in the lobby at the Hilton hotel in Manhattan all night long, sharing our stories until 5:30 in the morning. It wasn't until, we started to argue, Consolee telling me how much my childhood was hell and I arguing back that her experience was much worse than mine. We argued back and forth until we remembered to look at the clock. I was going to be heading to DC that same morning at 6:30! So we want to my fancy room that I had not slept in, showered and then headed to DC. I fell asleep on the train all the way to Washington.
Today I had the honor of having a conversation with Consolee, so that she can inspire you as she did inspire me and still does.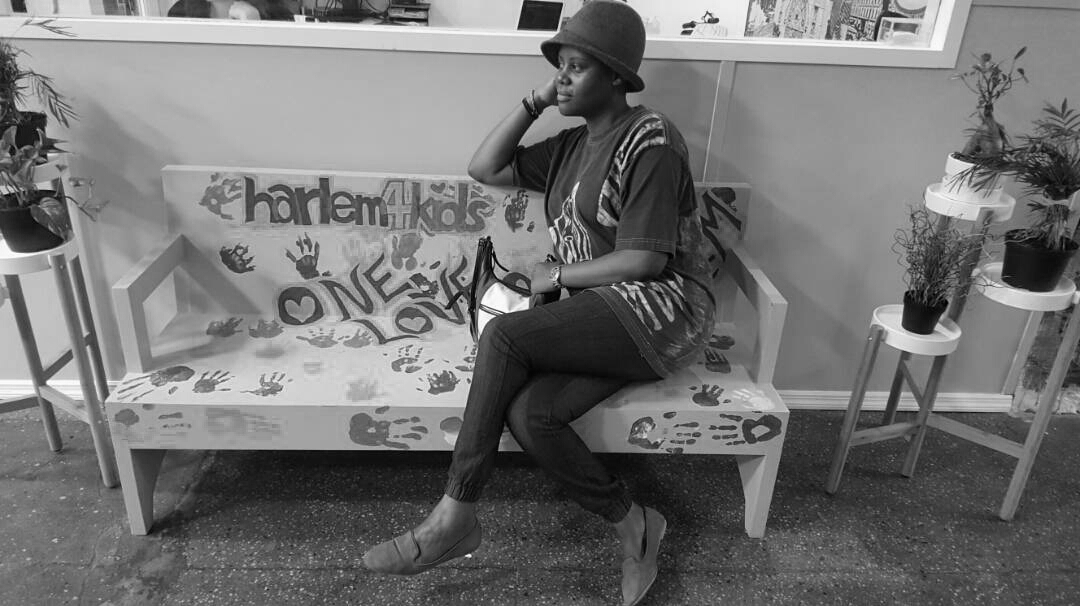 Is an author of a Memoir Tested to the Limit and motivational speaker, and a survivor of the 1994 genocide against the Tutsi in Rwanda. She went through the horrors of genocide at the age of 14 when she and her family were forced to leave their home in Rubengera, Kibuye and go into hiding when the genocide started. Unfortunately, during the course of the 3 month long genocide, her father and three young brothers were murdered along with many other close relatives.
Today, Consolee is a committed speaker about genocide and sexual violence and is an advocate for survivors like herself who suffered physical and emotional torture. She is a staunch defender of women's rights.
Interview
Dydine: Would you tell me what was the most challenging moment in your life?

Consolee: Life is so unpredictable. When I see a photo of me when I was a little girl in my little yellow dress with a little afro hair, I immediately start to think this is where my life started. I am grateful to see that beautiful reminder. When I keep staring at that little girl in the photo I see love, joy and innocence. Then I started to think that this little girl didn't know what was expected to happen to her as she was growing into become an adult. Then tears were streaming down my face when I get to her time she began her teens and everything she had received was snatched away from her, her soul was crushed and the people she loved the most. Seeing myself going through a genocide and during the genocide I had to face unimaginable things my little brain and body couldn't handle to carry. Rape was something that has affected me so much that I can't find words to describe. Being HIV positive as a result was also something that kept reminding me what I have endured. Anyone who has been raped is so deeply hurt on the inside that they can't explain in words the pain we carry. This was the hardest thing in my life that as a young girl becoming a young adult I didn't know whether I was going to escape the pain I felt. It was a long journey to accept life.

Dydine: How did you face it?

Consolee: Despite nightmares and excruciating pain I had endured within myself somehow I had the inner strength to keep pushing myselfandto never give up on life. Keep believing that things will get better and I should live no matter what. Looking around people I was blessed to have especially my beloved Mom who never ceased to remain strong and a perfect example of resilience, courage and faith. That was a blessing to me and seeing survivors who had experienced worse pain than I had but who were doing whatever they could to be strong and get on with their lives. That was my daily inspiration which kept me pushing and face this new life that I was going to lead.
Dydine: How did you overcome it?

Consolee: The journey was long, not easy at all. But my faith in God, believing that there is a power higher than myself, allowed me to reach out and find a way to gradually speak about my painful experiences. I began to keep a journalwhich was the toughest thing to do but at the end became like a load lifted off my shoulders. In the beginning I was asking God to help me forget and block all things I was carrying. It wasn't going to work that way at all unless I became vulnerable in order for me to heal from deep within; thus I became my authentic self and owned my story. This gave me the ability to overcome my most challenging moments in life.
Dydine: What was your survival technique?
Consolee: As difficult as it was, I persisted on reminding myself that I am here for a purpose. No matter what as humans being we can't run away from anything going on within ourselves. I tried constantly to involve myself in something that would uplift my spirits.
Dydine: What were your tools?

Consolee: My desire to live, no matter the circumstances, allowed me to heal and to see life as worth living in spite of all I have endured.
First a daily prayer which was food for my soul.
*Meditation which allowed me to go within and helped me to find inner peace and joy.
*Positive thinking which reminded me that inside of myself there was aplace that I should cherish and honor because it served my wellbeing.
*Check myself daily on what I am carrying within my subconscious mind and whether it serves my wellbeing, do daily cleansing and do the work like Iyanla Vanzant said.
Dydine: How did that challenging moment impact your life?

Consolee: It has impacted my life a lot. I learned how to take pleasure in daily living and not take a day for granted and even loving to feel the joy in whatever I chose to do.
I care my womanhood and embrace everything about myself.
Everyday is a treasure and I am grateful to be alive.
Dydine: What light up your heart?
Consolee: Seeing beauty in nature and in the people I meet.
Dydine: What's your message to the humanity?

Consolee: No matter what horrible circumstances you may face in your life, never lose hope, for losing hope is the beginning of your own self-defeat. When you have faith, you have strength. Hope and Courage can change the course of your oppression.
About the Author: Dydine Umunyana Still in her 20's, Rwandan genocide survivor Dydine Umunyana is the author of Embracing Survival: Genocide and War through the Eyes of a Child. She is the founder of Umbrella Press, a multi-media publishing venture dedicated to giving a voice to the voiceless. Dydine was appointed a youth peace Ambassador in 2013 for the Aegis Trust, an organization dedicated to the prevention of genocide and mass atrocities worldwide. Subsequently, in 2015, she became a Global Mentor for Peace at Serve 2 Unite, an organization that cultivates peace through creative service learning and global engagement. Dydine is committed to establishing a dialogue between people to help them understand their shared histories and cultural differences. Through her writing, public lectures and filmmaking, Dydine's goal is to pierce the wall of silence that still pervades much of our society.
For more about Consolee's work, check out her wonderful memoir, Tested to the limit.

Spread the word and let everyone know that Human Spirit is strong and good people still exist on this earth.

See you next Sunday morning with more treats from Dydine!